Now that all the rushing around is done, why not kick back and spend some time with a few of the art books that have recently hit our shelves.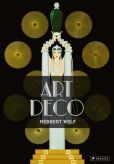 Art Deco, by Norbert Wolf

Author Norbert Wolf traces the chronology of the Art Deco style by looking at the politics and culture of Europe in the 1920s and early 30s, and the artistic movements that paralleled its popularity. He follows Art Deco's influence in Europe, its gradual popularity in the Americas and Asia and how Art Deco has survived that original era, with numerous revivals and a continuing influence in the arts today. The book is filled with hundreds of examples of Art Deco painting, architecture, interiors, jewelery, crafts, furniture, and fashion.
Bernini: his life and his Rome, by Franco Mormando

Sculptor, architect, painter and playwright, Gian Lorenzo Bernini was the last of the great universal artistic geniuses of early modern Italy. His artistic vision remains present today, through the countless statues, fountains, and buildings that transformed Rome into the Baroque theater that continues to enthrall tourists today. Drawing on archival sources, letters, diaries, Mormando leads us through Bernini's many feuds and love affairs, scandals and sins. He sets Bernini's raucous life against a vivid backdrop of Baroque Rome, bustling and wealthy, and peopled by churchmen and bureaucrats, popes and politicians, schemes and secrets.
Calder and Abstraction: from avant-garde to iconic , edited by Stephanie Barron and Lisa Gabrielle Mark

Alexander Calder's most beloved creations--from his mobiles to his public sculpture--are examined from every angle in this stunning book. Widely considered one of the most important artists of the 20th century, Alexander Calder revolutionized modern sculpture--most significantly with his kinetic works, for which Marcel Duchamp coined the term "mobiles." Later in his career, Calder created enormous versions of these floating abstractions. Their arching forms, dynamic surfaces, and sheer mass reflected his fascination with engineering and technology. This book focuses on Calder's earlier, interior-scaled works, which paved the way for the public works that continue to fascinate viewers around the world. Filled with images of Calder's elegant, colorful, floating shapes, this volume offers a number of critical texts that enrich our understanding of this innovative artist. Next time you're at Greenwich Library, walk on over to the periodicals room and take a look at the Calder mobile, which hangs over the stairs to the cafe.
Girl with a Pearl Earring: Dutch paintings from the Mauritshuis, edited by Lea Van der Vinde

This book introduces readers to the Dutch Golden Age and its brilliant master painters, including Johannes Vermeer, Rembrandt van Rijn, Frans Hals, and Jan Steen, among others. Housed in a splendid seventeenth-century palace in The Hague, the Royal Picture Gallery Mauritshuis is home to some of the world's most beloved paintings, including Vermeer's Girl with a Pearl Earring and has become a destination for art enthusiasts from around the world. This companion volume to a long-awaited exhibition guides readers through the highlights of the collection.
In Extremis: death and life in twenty-first-century Haitian art , edited by Donald J. Cosentino

This book examines the striking disjunction between social collapse and artistic flourescence in twenty-first century Haiti. It brings together the work of 34 artists, most of them living in Port-au-Prince, where they produce remarkable and controversial bodies of work in a variety of media while confronting on a daily basis the realities of Haiti's frustratingly slow recovery from the earthquake of 2010. Some of these artists have achieved acclaim on the international stage, but many receive new attention or reexamination here.
Jean Patou: a fashionable life , by Emmanuelle Polle

During the 1920's and 1930's, the French couturier Jean Patou was Chanel's main rival: day pajamas, jersey sportswear, swimwear and the little black dress were all among the innovative designs marking Patou's remarkable but brief career as the king of Parisian fashion. With his untimely death at 49, he had only fifteen years to make his mark on the history of couture, yet in that short time he amassed a colossal fortune, opened shops and studios in Paris, Deauville, Biarritz, and New York, and invented some of the world's legendary fragrances. This book recounts the story of Patou's charmed life and career during the most glamorous years of the twentieth century. For the first time, the heirs of the Patou family have agreed to share their extensive private archives, and author Emmanuelle Polle spent more than two years reviewing thousands of unpublished documents: photographs, diaries, client lists, and original, hand-colored sketches.
Magritte: the mystery of the ordinary, 1926-1938, edited by Anne Umland

This catalog focuses on the breakthrough Surrealist years of René Magritte, creator of some of the twentieth century's most extraordinary images. Bringing together nearly 80 paintings along with collages, objects, photographs, periodicals, and early commercial work, it offers fresh insight into Magritte's identity as a modern artist and as one of Surrealism's greatest painters.
Proud too be Weirrd , by Ralph Steadman

Iconoclastic British artist Ralph Steadman has been creating editorial and political illustrations for more than five decades. He is revered for his ink-splattered, anarchic, and often shocking drawings. His well-known illustrations alongside the work of literary legend Hunter S. Thompson have long been celebrated and have achieved a cult-like following. Together, Steadman and Thompson's iconic work has come to be known as Gonzo journalism. This book, Steadman's first-person narrative, takes us on a literary and visual journey of his well-known, provocative work and is accompanied by his acerbic wit, heartfelt political views, and unique sense of humor.
Star Trek: the art of Juan Ortiz, by Juan Ortiz

A Trekkies dream: This book presents a collection of original artwork that imagines a movie poster for each of the original series' episodes and incorporates retro-style, era-specific elements reminiscent of period comics, pulp novel covers, and advertisements. Super cool.

Winslow Homer Watercolors, by Nicolai Cikovsky, Jr

Winslow Homer captured in his paintings the true magnificence of nature. For more than thirty years between, 1873 and 1905, he turned to watercolors during his working vacations, concentrating on capturing the spirit of each place he visited with both spontaneity and intensity. Many of Homer's most beautiful paintings focus on the interaction between humans and nature. This book reproduces the best of these paintings. Large color plates allow these reproductions to be appreciated almost as much as the originals. Accompanying the more than 100 color plates is an eloquent introduction and detailed chronology of Homer's life and artistic development.
The World Atlas of Street Art and Graffiti , by Rafael Schacter

Provides a guide to the most significant artists, schools, and styles of street art and graffiti around the world.Organized geographically by country and city, more than 100 of today's most important street artists.The evolution of street art and graffiti within each region is also chronicled, providing essential historical context. With contributions by the foremost authorities on street art and graffiti, this landmark publication provides a nuanced understanding of a widespread contemporary art practice.