In this special edition of "This Just In" we bring you the first ever National Book Award Short Lists.
A month after releasing long-lists of 10 titles in each of the four competitive categories, the
National Book Foundation
announced the five remaining writers for fiction, nonfiction, poetry and young people's literature.
Winners will be announced on Nov. 20th and will receive $10,000 and a significant career boost.
Here are the titles:
Fiction
Bleeding Edge, by Thomas Pynchon

New York City, 2001. Fraud investigator Maxine Tarnow starts looking into the finances of a computer-security firm and its billionaire geek CEO and discovers there's no shortage of swindlers looking to grab a piece of what's left of the tech bubble.
The notoriously reclusive Pynchon was awarded a National Book award in 1974 for his novel Gravity's Rainbow.
Here's a review of Bleeding Edge from the New York Times.

The Flamethrowers, by Rachel Kushner

Arriving in New York to pursue a creative career in the raucous 1970s art scene, Reno joins a group of dreamers and raconteurs before falling in love with the estranged son of an Italian motorcycle scion and succumbing to a radical social movement in 1977 Italy.
Kushner's debut novel, Telex from Cuba, was a finalist for the 2008 National Book Award.
The Good Lord Bird, by James McBride

Henry Shackleford is a young slave living in the Kansas Territory in 1857, when the region is a battleground between anti- and pro-slavery forces. When John Brown, the legendary abolitionist, arrives in the area, an argument between Brown and Henry's master quickly turns violent. Henry is forced to leave town--with Brown, who believes he's a girl. Over the ensuing months, Henry--whom Brown nicknames Little Onion--conceals his true identity as he struggles to stay alive. Eventually Little Onion finds himself with Brown at the historic raid on Harper's Ferry in 1859--one of the great catalysts for the Civil War. An absorbing mixture of history and imagination.
James McBride is an accomplished musician and author of the American classic The Color of Water.
The Lowland, by Jhumpa Lahiri

orn just fifteen months apart, Subhash and Udayan Mitra are inseparable brothers, one often mistaken for the other in the Calcutta neighborhood where they grow up. But they are also opposites, with gravely different futures ahead. It is the 1960's, and Udayan--charismatic and impulsive--finds himself drawn to the Naxalite movement, a rebellion waged to eradicate inequity and poverty; he will give everything, risk all, for what he believes. Subhash, the dutiful son, does not share his brother's political passion; he leaves home to pursue a life of scientific research in a quiet, coastal corner of America. But when Subhash learns what happened to his brother in the lowland outside their family's home, he goes back to India, hoping to pick up the pieces of a shattered family, and to heal the wounds Udayan left behind--including those seared in the heart of his brother's wife.
Lahiri is a recipient of the Pulitzer Prize, a PEN/Hemingway Award, the Frank O'Connor International Short Story Award and a Guggenheim Fellowship, she was inducted into the American Academy of Arts and Letters in 2012.
Tenth of December: stories, by George Saunders

A collection of stories includes "Home," a wryly whimsical account of a soldier's return from war; "Victory Lap," a tale about an inventive abduction attempt; and the title story, in which a suicidal cancer patient saves the life of a young misfit. These stories are sarcastic and insightful but also hilarious. Saunders is a recent recipient of a MacArthur genius grant and won the PEN/Malamud Award for Excellence in the Short Story and was also named one of Time magazine's 100 most influential people in the world.
New York Times review and here's a profile of Saunder's published in the New York Times Magazine earlier this year.
Young People's Literature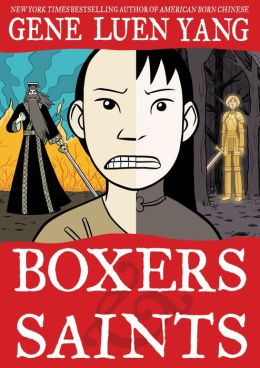 Boxers/Saints, by Gene Luen Yang

n two volumes, Boxers & Saints tells two parallel stories. The first is of Little Bao, a Chinese peasant boy whose village is abused and plundered by Westerners claiming the role of missionaries. Little Bao, inspired by visions of the Chinese gods, joins a violent uprising against the Western interlopers. Against all odds, their grass-roots rebellion is successful. But in the second volume, Yang lays out the opposite side of the conflict. A girl whose village has no place for her is taken in by Christian missionaries and finds, for the first time, a home with them. As the Boxer Rebellion gains momentum, Vibiana must decide whether to abandon her Christian friends or to commit herself fully to Christianity.
This is the first graphic novel to ever be nominated for a National Book Award.
Far Far Away, by Tom McNeal

eremy Johnson Johnson's life has begun to feel like a cruel fairy tale. He hears voices - "strange whisperings" - so the citizens of the small town of Never Better treat him like an oddity and an outcast. Meanwhile, his mother takes a bite of a cake so delicious it's rumored to be bewitched and runs away with another man. Jeremy's heartsick father goes into his room and stays there unhappily ever after. Then the town's coltish, copper-haired beauty takes a bite of the cake herself and falls in love with the first person she sees: Jeremy. In any other place, this would be a turn for the better for Jeremy, but not in Never Better, where the Finder of Occasions--whose identity and evil intentions nobody knows--is watching and waiting, waiting and watching. . .
McNeal is also the author, with his wife, Laura, of four young adult novels.
Picture Me Gone, by Meg Rosoff

Mila has an exceptional talent for reading a room--sensing hidden facts and unspoken emotions from clues that others overlook. So when her father's best friend, Matthew, goes missing from his upstate New York home, Mila and her beloved father travel from London to find him. She collects information about Matthew from his belongings, from his wife and baby, from the dog he left behind and from the ghosts of his past--slowly piecing together the story everyone else has missed. But just when she's closest to solving the mystery, a shocking betrayal calls into question her trust in the one person she thought she could read best.

Rosoff's debut novel, How I Live Now, won the Michael L. Printz Award and was an ALA Best Book for Young Adults.
The Thing About Luck, by Cynthia Kadohata

Summer knows that kouun means "good luck" in Japanese, and this year her family has none of it. Just when she thinks nothing else can possibly go wrong, an emergency whisks her parents away to Japan--right before harvest season. Summer and her little brother, Jaz, are left in the care of their grandparents, who come out of retirement in order to harvest wheat and help pay the bills. The thing about Obaachan and Jiichan is that they are old-fashioned and demanding, and between helping Obaachan cook for the workers, covering for her when her back pain worsens, and worrying about her lonely little brother, Summer just barely has time to notice the attentions of their boss's cute son. But notice she does, and what begins as a welcome distraction from the hard work soon turns into a mess of its own. Having thoroughly disappointed her grandmother, Summer figures the bad luck must be finished--but then it gets worse. And when that happens, Summer has to figure out how to change it herself, even if it means further displeasing Obaachan. Because it might be the only way to save her family.

Kadohata is the author of the Newbery Medal-winning book Kira-Kira.
The True Blue Scouts of Sugar Man Swamp, by Kathi Appelt

Raccoon brothers Bingo and J'miah are the newest recruits of the Official Sugar Man Swamp Scouts. The opportunity to serve the Sugar Man--the massive creature who delights in delicious sugar cane and magnanimously rules over the swamp--is an honor, and also a big responsibility, since the rest of the swamp critters rely heavily on the intel of these hardworking Scouts. Twelve-year-old Chap Brayburn is not a member of any such organization. But he loves the swamp something fierce, and he'll do anything to help protect it. And help is surely needed, because world-class alligator wrestler Jaeger Stitch wants to turn Sugar Man swamp into an Alligator World Wrestling Arena and Theme Park, and the troubles don't end there. There is also a gang of wild feral hogs on the march, headed straight toward them all.
Appelt is the author of the Newbery Honor-winning, National Book Award finalist, PEN USA Literary Award-winning, and bestselling The Underneath.
Non-Fiction


Book of Ages: the life and opinions of Jane Franklin, by Jill Lepore

Benjamin Franklin, who wrote more letters to his sister than he wrote to anyone else, was the original American self-made man; his sister spent her life caring for her children. They left very different traces behind. Making use of an amazing cache of little-studied material, including documents, objects, and portraits only just discovered, Jill Lepore brings Jane Franklin to life in a way that illuminates not only this one woman but an entire world--a world usually lost to history. Lepore's life of Jane Franklin, with its strikingly original vantage on her remarkable brother, is at once a wholly different account of the founding of the United States and one of the great untold stories of American history and letters: a life unknown.

Jill Lepore is the David Woods Kemper '41 Professor of American History at Harvard University and a staff writer at The New Yorker. Her books include New York Burning, a finalist for the Pulitzer Prize.
Going Clear: Scientology, hollywood, and the prison of belief, by Lawrence Wright

A clear-sighted revelation, a deep penetration into the world of Scientology by the Pulitzer Prize-winning author of The Looming Tower, the now-classic study of al-Qaeda's 9/11 attack. Based on more than two hundred personal interviews with current and former Scientologists--both famous and less well known--and years of archival research, Wright uses his investigative ability to uncover for us the inner workings of the Church of Scientology.
Hitler's Furies: German women in the Nazi killing fields, by Wendy Lower

Hitler's Furies builds a fascinating and convincing picture of a morally "lost generation" of young women, born into a defeated, tumultuous post-World War I Germany, and then swept up in the nationalistic fervor of the Nazi movement--a twisted political awakening that turned to genocide. These young women--nurses, teachers, secretaries, wives, and mistresses--saw the emerging Nazi empire as a kind of "wild east" of career and matrimonial opportunity, and yet could not have imagined what they would witness and do there. Lower, drawing on twenty years of archival and field work on the Holocaust, access to post-Soviet documents, and interviews with German witnesses, presents overwhelming evidence that these women were more than "desk murderers" or comforters of murderous German men: that they went on "shopping sprees" for Jewish-owned goods and also brutalized Jews in the ghettos of Poland, Ukraine, and Belarus; that they were present at killing-field picnics, not only providing refreshment but also taking their turn at the mass shooting. And Lower uncovers the stories, perhaps most horrific, of SS wives with children of their own, whose female brutality is as chilling as any in history.
Ms. Lower is a college professor and a historical consultant for the U.S. Holocaust Memorial Museum.
New York Times review. Also, here is a recent interview with the author, also from the New York Times.

The Internal Enemy: slavery and war in Virginia, 1772-1832 , by Alan Taylor

Frederick Douglass recalled that slaves living along Chesapeake Bay longingly viewed sailing ships as "freedom's swift-winged angels." In 1813 those angels appeared in the bay as British warships coming to punish the Americans for declaring war on the empire. Over many nights, hundreds of slaves paddled out to the warships seeking protection for their families from the ravages of slavery. The runaways pressured the British admirals into becoming liberators. As guides, pilots, sailors, and marines, the former slaves used their intimate knowledge of the countryside to transform the war. They enabled the British to escalate their onshore attacks and to capture and burn Washington, D.C. Tidewater masters had long dreaded their slaves as "an internal enemy." By mobilizing that enemy, the war ignited the deepest fears of Chesapeake slaveholders. It also alienated Virginians from a national government that had neglected their defense. Instead they turned south, their interests aligning more and more with their section. In 1820 Thomas Jefferson observed of sectionalism: "Like a firebell in the night it awakened and filled me with terror. I considered it at once the knell of the union." The notes of alarm in Jefferson's comment speak of the fear aroused by the recent crisis over slavery in his home state. His vision of a cataclysm to come proved prescient. Jefferson's startling observation registered a turn in the nation's course, a pivot from the national purpose of the founding toward the threat of disunion. Drawn from new sources, Taylor's narrative re-creates the events that inspired black Virginians, haunted slaveholders, and set the nation on a new and dangerous course.
Alan Taylor has won the Pulitzer and Bancroft prizes for his histories of early America. He is the Thomas Jefferson Professor of History at the University of Virginia.
The Unwinding: an inner history of the new America , by George Packer

American democracy is beset by a sense of crisis. Seismic shifts during a single generation have created a country of winners and losers, allowing unprecedented freedom while rending the social contract, driving the political system to the verge of breakdown, and setting citizens adrift to find new paths forward. In The Unwinding, George Packer, author of The Assassins' Gate: America in Iraq, tells the story of the United States over the past three decades in an utterly original way, with his characteristically sharp eye for detail and gift for weaving together complex narratives. The book portrays a superpower in danger of coming apart at the seams, its elites no longer elite, its institutions no longer working, its ordinary people left to improvise their own schemes for success and salvation.
New York Times review. Packer also blogs for The New Yorker.
Poetry
The Big Smoke, by Adrian Matejka

The legendary Jack Johnson (1878-1946) was a true American creation. The child of emancipated slaves, he overcame the violent segregationism of Jim Crow, challenging white boxers--and white America--to become the first African-American heavyweight world champion. The Big Smoke, Adrian Matejka's third work of poetry, follows the fighter's journey from poverty to the most coveted title in sports through the multi-layered voices of Johnson and the white women he brazenly loved. Matejka's book is part historic reclamation and part interrogation of Johnson's complicated legacy, one that often misremembers the magnetic man behind the myth.
Black Aperture: poems , by Matt Rasmussen.

In this debut collection, Matt Rasmussen faces the tragedy of his brother's suicide, refusing to focus on the expected pathos, blurring the edge between grief and humor. Destructive and redemptive, Black Aperture opens to the complicated entanglements of mourning: damage and healing, sorrow and laughter, and torment balanced with moments of relief.
Incarnadine: poems, by Mary Szybist

ary Szybist's richly imagined encounters offer intimate spaces and stagings for experiences that are exploratory and sometimes explosive. Through the lens of an iconic moment, the Annunciation of an unsettling angel to a bodily young woman, Szybist describes the confusion and even terror of moments in which our longing for the spiritual may also be a longing for what is most fundamentally alien to us. In a world where we are so often asked to choose sides, to believe or not believe, to embrace or reject, Incarnadine offers lyrical and brilliantly inventive alternatives.

Metaphysical Dog , by Frank Bidart

This "ancient work" reflects what the poet sees as fundamental in human feeling, what psychologists and mystics have called the "hunger for the Absolute"--a hunger as fundamental as any physical hunger. This hunger must confront the elusiveness of the Absolute, our self-deluding, failed glimpses of it. The third section of the book is titled "History is a series of failed revelations." The result is one of the most fascinating and ambitious books of poetry in many years.
He was a Poetry Finalist in 1997 for "Desire", in 2005 for "Star Dust: poems" and in 2008 for "Watching the Spring Festival."
Stay, Illusion: poems, by Lucie Brock-Broido

Stay, Illusion, illuminates the broken but beautiful world she inhabits. Her poems are lit with magic and stark with truth: whether they speak from the imagined dwelling of her "Abandonarium," or from habitats where animals are farmed and harmed "humanely," or even from the surreal confines of death row, they find a voice like no other--dazzling, intimate, startling, heartbreaking.